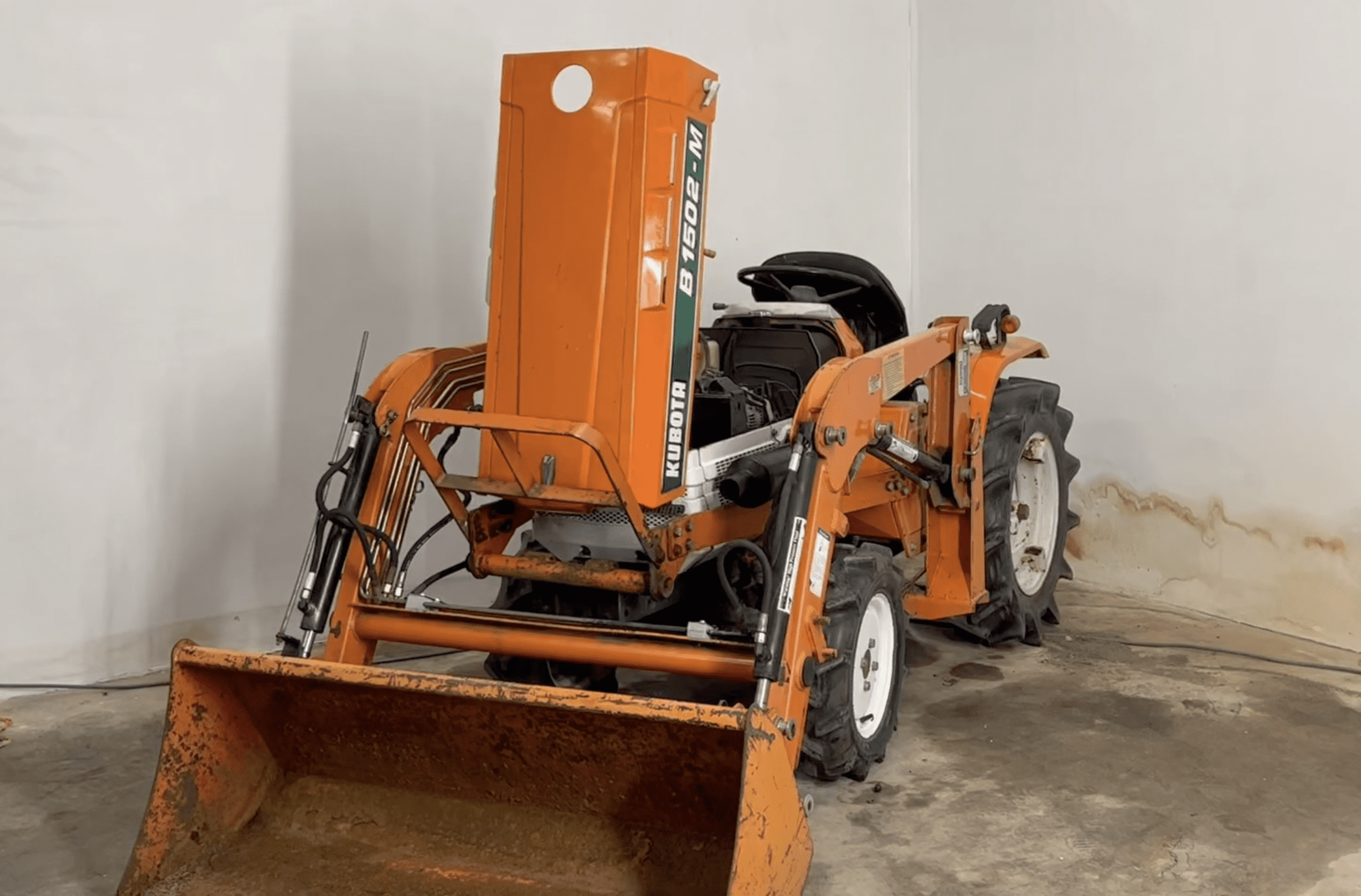 The Kubota B1502 is a compact and powerful mini tractor suitable for a wide range of jobs in the garden and in the field. The tractor is equipped with a robust and reliable 3 cylinder 15 hp Kubota D850 diesel engine that provides enough power to perform heavy-duty tasks.
How do you drive the Kubota B1502?
The Kubota B1502 is equipped with a four-speed manual transmission and a hydraulic linkage that makes it easy to use accessories such as a seeder, chipper or snow plow. Thanks to its compact size and maneuverability, the B1502 is also suitable for use in small gardens and on narrow paths.
Why a Kubota B1502 as a mini tractor
One of the biggest advantages of the Kubota B1502 is the reliability and longevity of the tractor. Made of high-quality materials and components, the B1502 is designed to function for years without problems. Moreover, parts are easily available for Kubota's, so you can always get help if you need it.
If you are looking for a powerful and versatile mini tractor for maintaining your garden or land, the Kubota B1502 is an excellent choice. The tractor offers enough power and functionality to handle even the toughest jobs, while being compact and maneuverable enough for use in small spaces. Moreover, you can count on the B1502's reliability and longevity, making it a smart investment for anyone looking for a mini tractor.
Why the D850 Kubota engine for the B1502
The Kubota D850 is a heavy and powerful 3 cylinder diesel engine used in a wide range of applications, such as in mini excavators and power units. The D850 is designed with a robust and durable construction, which ensures that the motor will last a long time and be reliable in tough working conditions.
One of the unique features of the D850 is its low noise and vibration levels. Thanks to advanced damping technologies and improved engine designs, the D850 is one of the quietest and most comfortable engines in its class. This makes the D850 ideal for use in environments where silence and comfort are important, such as when working in urban areas or doing precision work.
In terms of maintenance, the D850 is designed to be user-friendly and easy to service. The engine has easily accessible parts and a long service interval, which means your machine needs less frequent maintenance and you can stay productive longer. In addition, Kubota offers an extended warranty on the D850, giving you additional assurance of the engine's reliability and durability.
Implements in combination with the Kubota b1502
Kubota mini tractors can be equipped with a variety of implements, including plows, tillers, hoes and many other implements. The exact implements that can be used on a particular Kubota mini tractor may vary depending on the specific model and the connections available on the tractor. It is important to know whether an implement still has a hydraulic connection, and the width of the lifting slats should be determined in advance.
Does Shop4trac have all the parts for a Kubota B1502, B1500, B1600, B1702?
There are several ways to find parts for a Kubota mini tractor, depending on where you are and what your specific needs are. A few options for finding parts are:
You can contact Shop4trac if a part is not on the webshop.Often we have several suppliers from which we can get our products.
If you are handy and familiar with working with farm machinery, you may be able to make or repair the part you need yourself. You can do this by making a drawing of the part and then cutting it to size using tools and materials you can buy at a local hardware store or online. This is mainly due to parts that are no longer supplied or related to a tool. Often these solutions are possible when everything else has been tried.
Furthermore, at Shop4trac we try to collect all parts through time, so we can keep "most" Minitractors alive. In addition, helping people is our privilege and we enjoy it!
It is important to stress that the availability of parts can vary depending on where you are and how difficult the part is to find. It is therefore advisable to contact several Shop4trac to see what we can do for you.